Vol. 57 No. 10
Trial Magazine
Theme
Leading the Charge for Change
October 2021
Nine minutes, 29 seconds. On May 25, 2020, George Floyd lay handcuffed and pinned on the ground with two Minneapolis police officers kneeling on his back and legs. Officer Derek Chauvin put the full weight of his knee on the back of Floyd's neck. Despite Floyd telling them, "I can't breathe," and despite the pleas of bystanders, there the three officers stayed. Nine minutes, 29 seconds. Floyd stopped breathing. He lost consciousness. Chauvin kept his knee on Floyd's neck even after emergency medical services arrived. Nine minutes, 29 seconds. What was Floyd's crime? He allegedly had purchased cigarettes with a counterfeit $20 bill.1
Floyd wasn't the first—Eric Garner, Michael Brown, Tamir Rice, Breonna Taylor, Duante Wright, and countless more have been the victims of police violence over the years. But when video of the brutal killing of Floyd went viral, the country and the world watched in horror. His death instantly ignited protests nationwide against police misconduct and led to widespread demands for change. And leading that charge for change were the civil rights lawyers who have long sought to fix a system marred by inequality and systemic flaws.
Less than two months after Floyd's murder, the trustees for Floyd's family filed a §1983 wrongful death case in the federal district court in Minnesota against the four officers involved in Floyd's killing2 for violating his Fourth Amendment right to be free from excessive force.3 Floyd was not armed, posed no imminent threat to the officers or others, and was compliant and handcuffed when Chauvin applied deadly force.4
The complaint also included a §1983 Monell claim against the city for the unconstitutional patterns and practices that led to the use of excessive force in nondeadly encounters and the city's deliberate indifference to the rights of arrestees, as well as a §1983 Canton claim that the city failed to train its officers on the reasonable use of force during arrests and specifically on neck restraints.5 As the complaint alleged, the Minneapolis police department had a history of training officers to use deadly force in nondeadly situations. And in multiple known prior incidents in which its officers had used excessive force, the department failed to act. In Chauvin's case, he received 17 citizen complaints from 2006 to 2015, only one of which resulted in discipline—a letter of reprimand.6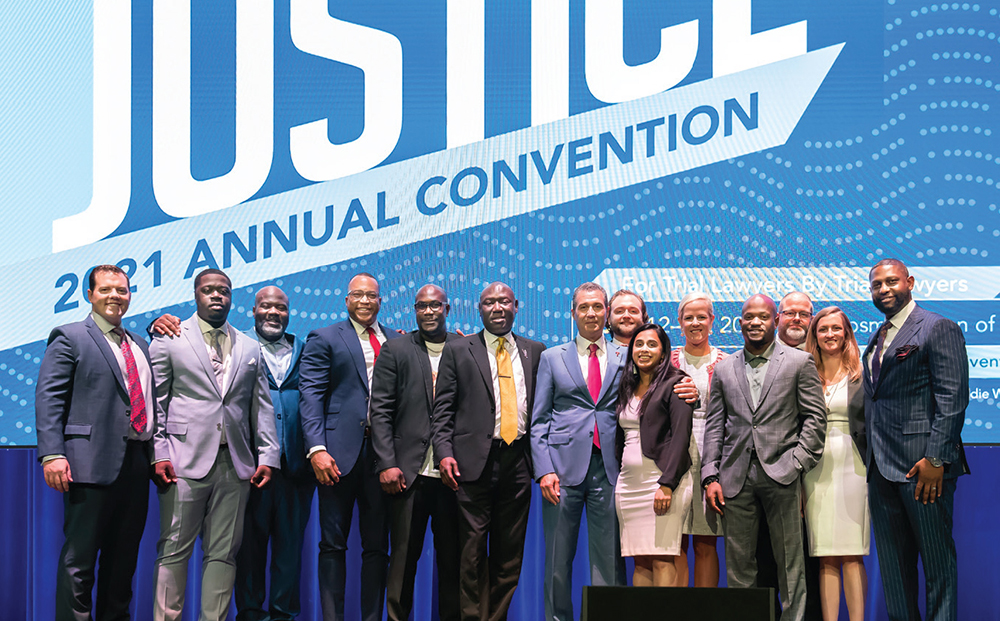 AAJ President Navan Ward (far right) with the recipients of this year's Leonard Weinglass Award—the Floyd family and their lawyers.
The team of lawyers who represented the Floyd family includes Ben Crump and Adner Marcellin from Ben Crump Law; Antonio Romanucci, Bhavani Raveendran, Ian Fallon, and Nicolette Ward from Romanucci & Blandin; Jeffrey Storms from Newmark Storms Dworak; Chris Stewart, Justin Miller, and Madeleine Simmons from Stewart Miller Simmons; and Devon Jacob from Jacob Litigation.
In separate criminal proceedings in Minnesota state court, Chauvin was charged with second-degree murder, third-degree murder, and second-degree manslaughter, and the other three officers were charged with aiding and abetting murder. Mere days before Chauvin's trial started,7 the lawyers reached a $27 million settlement with the City of Minneapolis, the largest pretrial settlement in a police violence case in U.S. history and the largest settlement ever paid by the city.8 As part of the settlement, $500,000 was set aside to support businesses in the neighborhood where Floyd was killed.9
The attorneys called the settlement meaningful for two reasons. "The sheer dollar amount is a signal to all the world that the life of a Black man has value. Historically, we have seen a real disparity in settlements for victims of excessive force who were Black compared to other people. This settlement showed George Floyd's life mattered. Second, the settlement was historic because it was a true collaboration with the City of Minneapolis, including substantial reform to policing. City leaders were very eager to embrace the moment, stand with us, and begin the process to make policing in Minneapolis better and safer for the community and the members the police serve."
For their efforts, the Floyd family and their team of lawyers received the Leonard Weinglass in Defense of Civil Liberties Award this summer. Presented annually by AAJ's Civil Rights Section, the award honors an attorney or civil rights advocate who has made a noteworthy contribution to the defense of civil rights by bringing, trying, or resolving a suit, or by otherwise protecting or advancing civil liberties, in a way that has had a significant impact.
"To have the team and family's efforts acknowledged by the Leonard Weinglass Award is both humbling and promising. Humbling, because we are just a small group of civil rights lawyers who are engaged in this important work. What we do and did, hundreds of lawyers have done daily, for decades, without ever being recognized," the attorneys said. "As to the Floyd family being the family to be recognized, they understand that they are just one of many families who have unjustly suffered this same type of loss. Promising, because what has historically been an important award that has been given in a private session was celebrated this year by all of AAJ as a reminder of the association's core mission and a symbol of the positive impact that its members make nationwide."
As part of this reckoning on the disparate treatment of people of color, state legislatures have begun to correct some of the systemic problems. Since Floyd's murder, more than 3,000 law enforcement-related bills having been introduced in state legislatures—19 states, including Minnesota, have put limits or bans on chokeholds, and 25 states have considered some type of reform to qualified immunity (with four states having passed legislation to restrict or end it).10
On Capitol Hill, the George Floyd Justice in Policing Act (GFJPA) was first introduced in 2020.11 A crucial step toward correcting the injustices caused by police brutality and unlawful policing, the bill calls for the end of qualified immunity for police officers (a judicially created doctrine that has shielded law enforcement officers and other government officials from civil liability) to allow those injured or killed by police misconduct to hold the wrongdoers accountable.
The bill also would require all federal officers with the authority to conduct searches and make arrests to wear body cameras; establish a national police misconduct registry; ban choke- and carotid holds; and ban no-knock warrants in federal drug cases. Although the GFJPA passed the House of Representatives last year and again in March 2021,12 negotiations are still ongoing in the Senate.
"The hope is that with meaningful reforms—as are anticipated by the George Floyd Justice in Policing Act—citizens will feel respected and safe in their communities, not terrorized and afraid of their own government," the attorneys said. "We are at a once-in-a-generation crossroads in this country, where the scourge of systemic racism and deep-seated problems in policing are all at the forefront of our consciousness. . . . We must make sure the right changes are made, not just change for the sake of change, to bring transparency and accountability and rebuilt trust of police in our communities."
---
Alyssa E. Lambert is the managing editor for Trial.
---
Notes
History.com, George Floyd Is Killed by a Police Officer, Igniting Historic Protests, May 25, 2020, https://www.history.com/this-day-in-history/george-floyd-killed-by-police-officer.
The fourth officer was on the scene standing near Floyd.
Schaffer v. Chauvin, No. 0:20-cv-01577 (D. Minn. filed July 15, 2020), https://tinyurl.com/5fb28p6c; see also Kate Halloran, Civil Rights Suit Filed Against Police Officers, Minneapolis for George Floyd's Death, Trial News, July 23, 2020.
Schaffer, supra note 3 at 4.
Schaffer, supra note 3 at 31–37.
Schaffer, supra note 3 at 21.
On April 20, Chauvin was convicted on all counts, and on June 25, he was sentenced to 22.5 years in prison. Janelle Griffith, Derek Chauvin Sentenced to 22.5 Years for the Murder of George Floyd, NBC News, June 25, 2021, https://tinyurl.com/yt7uums3.
Dave Simpson, Minneapolis to Pay George Floyd's Family $27M to End Suit, Law360, Mar. 12, 2021, https://tinyurl.com/kewk8j4j; Kate Halloran, Floyd Family Reaches Settlement With City of Minneapolis, Trial News, Mar. 18, 2021.
Id.
See Alex Brown, Summer of Protest Prompted Spring Flurry of Policing Bills, Pew Charitable Trusts, July 27, 2021, https://tinyurl.com/63wbzewk; Farnoush Amiri, Colleen Slevin, & Camille Fasset, In Year Since George Floyd's Death, Some States Ban or Limit Police Chokeholds, L.A. Times, May 24, 2021, https://tinyurl.com/473wvfm6. Only Illinois and Tennessee had comparable bans in place before Floyd's death. See also Sarah D. Wire, The Supreme Court Created Qualified Immunity. Why Is It So Tough for Congress to Get Rid of It?, L.A. Times, May 25, 2021, https://tinyurl.com/enmeavss.
See H.R. 720, 116th Cong. (2020), https://www.congress.gov/bill/116th-congress/house-bill/7120.
See H.R. 1280, 117th Cong. (2021), https://www.congress.gov/bill/117th-congress/house-bill/1280.