Volunteer
Trial Lawyers Care®
An initiative to encourage, recognize, and organize trial lawyers who contribute to their communities through volunteer and charitable activities that serve the public good.
Help Tornado Survivors in Kentucky
In the aftermath of the tornadoes that devastated parts of western Kentucky on December 10-11, Kentucky Justice Association has set up the Kentucky Strong Disaster Relief Fund to collect and distribute contributions. Other groups and funds through which you can help:
AAJ's TLC
Giving Back Every Day
Our lawyers give back by providing food and clothing for vulnerable families; promoting safe driving to students; establishing scholarships and charitable foundations; building affordable housing; helping after disasters, and more.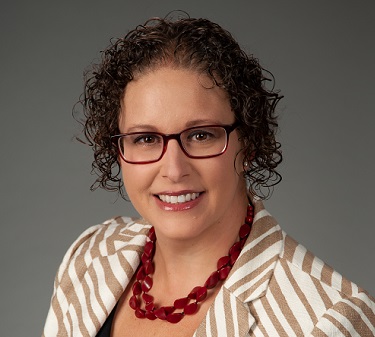 Sharon Zinns
Zinns Law, LLC
Atlanta, GA
2021 Trial Lawyers Care Award Winner
On the first day of early voting in Georgia, AAJ member Sharon Zinns waited more than 5 hours in line to vote. After 2 hours of hearing people talk about missing lunch, Sharon ordered pizza and drinks for the line. Two days later, she saw there was a 3-hour wait. She organized a quick online fundraising effort for ordering and delivering pizza to the line. She received over $4,000 from people around the country. "Nobody should be waiting on lines this long to cast their votes. My goal is to make sure voters can wait comfortably, stay in line, and cast their votes," says Sharon.
Recent Member Stories
Partnering for Change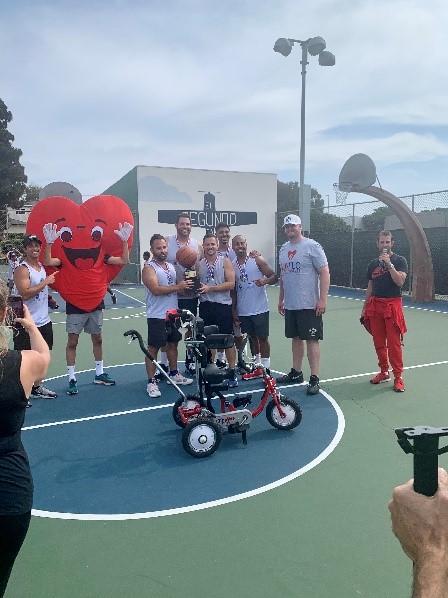 For five years, Los Angeles Trial Lawyers' Charities (LATLC) has partnered with SoCal Trykers, a non-profit started by physical therapists to give adaptive tricycles to children and young adults with disabilities. The tricycles help them play with their friends and family, many for the first time. Each year, LATLC funds at least 10 of these bikes since the price (around $1,000 each) is prohibitive for most families.

LATLC purchased 15 special tricycles from 2020 fundraising and presented them at the Great Tryke Giveaway September 18, along with a party, parade, and fun activities for the entire family.

This year, LATLC held its first 3 on 3 Basketball Tournament to raise money for the 2022 bikes. The tournament was announced June 1, and by "Game Day" on July 24, all 16 teams were filled and almost a dozen sponsorships were sold out – raising $50,000 toward the special tricycles! The tournament also featured activities for children, snacks, and lunch for everyone. The money raised will go toward tricycles to be presented in 2022.
Making a Difference. One Round at a Time.
John Gomez, President and Founder of San Diego-based Gomez Trial Attorneys, and UFC Champion Brandon Moreno have commenced a partnership to jointly make substantial donations over the next year to the Community Youth Athletic Center (CYAC)—located in National City, San Diego County, California. The CYAC provides boxing training, tutoring, and mentoring to at risk boys and girls. Founded in 1991, its mission statement is "Making a Difference. One round at a time."
"As a native San Diegan, I'm committed to improving my local community, and I'm determined to make a real difference in the lives of these at-risk kids through this partnership," said John.
John Gomez has been a major sponsor of CYAC for years, is a proud member of CYAC's Board of Directors, and even occasionally trains there himself.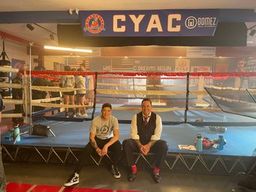 AAJ Members Step Up
AAJ Minority Caucus member and Board Representative Chris Fitzgerald recently worked with members of his local community and the Minority Caucus to provide water to people impacted by the eruptions from the La Soufriere volcano in St. Vincent and the Grenadines. Many AAJ members stepped up to help by purchasing water from an Amazon Wish List set up by Chris. The water was delivered from the Amazon Wish List to a drop-off location in NYC and will be shipped to the islands soon.
Thank you so much to everyone who contributed. Our trial lawyer community has done us all proud once again.
Always Ready to Help
The Eastern Illinois Foodbank is the primary food source for food pantries, soup kitchens, homeless shelters, and other local programs working to feed the hungry throughout East Central Illinois.
Spiros Law has three offices in Central Illinois and has partnered with this wonderful organization many times over the years—often assisting with re-pack events. At a re-pack, a group of volunteers meets at the distribution warehouse to sort, label, and package donated food items to be distributed to the Eastern Illinois Foodbank's partner organizations.
Due to the pandemic, volunteer events were closed for some time and it had been over a year since the Spiros Law team has participated in a re-pack. Recently however, there was an opportunity to help once again.
"With limited capacity re-pack shifts being offered again, the Spiros Law team quickly signed up and filled all volunteer spots within minutes of the re-pack being posted," said partner Miranda Soucie.
The Eastern Illinois Foodbank provided a safe and fun atmosphere where seven members of the Spiros Law team worked together and sorted and labeled a full pallet of canned goods that will be distributed to those in need in Central Illinois.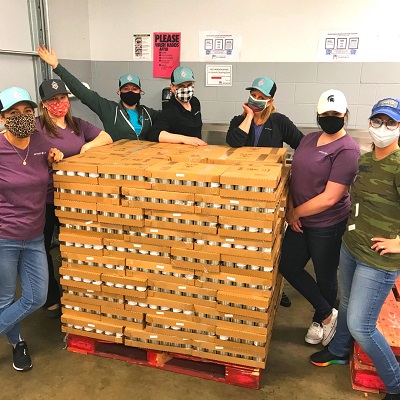 Helping Storm Survivors
Recent winter storms have devastated Texas—lives have been tragically lost and millions left without power, drinking water, and food.
AAJ member Ira Leesfield felt compelled to help—and as chair of the Leesfield Family Foundation, he was in a position to do so.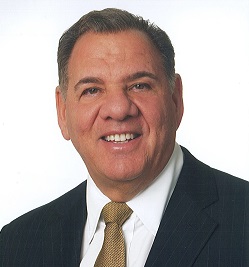 "Our simple gesture is to get food, shelter, and water to millions of Texans who are literally out in the cold. This natural disaster has complicated the worst health crisis our country has seen in its history. Our need to respond has never been greater. The goals of the Leesfield Family Foundation are direct, simple, and efficient—wherever there is a need and we can help, we will urgently respond," said Ira, a past recipient of the Trial Lawyers Care Award.
The Foundation has sent generous contributions to two main food banks:
And they plan to contribute more. Join them to take action and support these crucial organizations in this time of great need. Whatever the amount, you will make a difference. Your contributions will go to work immediately.

Valentine's Day Volunteers
For the past four years, LATLC has "taken over" the cafeteria at the Los Angeles Mission on Skid Row—decorating the area, serving a special lunch, and then giving about 500 homeless men and women Valentines and candy. It was one of their last projects in 2020.
Of course, they couldn't do that this year but still wanted to send some "TLC from LATLC!" The Mission has residential programs for about 100 men and women. LATLC enlisted volunteers to create Valentine art and received over 50 drawings. They then added these messages, candy, and masks to bags which will be given to the residents on Valentine's Day.
"What was great, was that families could do this together from their homes, so many kids got involved, and people had fun!" said LATLC President Daniel K. Kramer.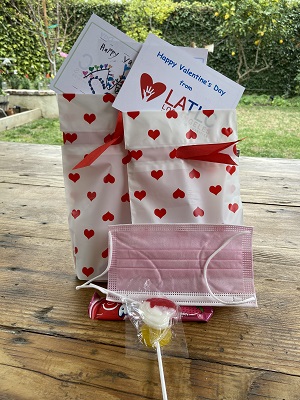 Running Towards the Fire
When Oregon was hit with an incredibly powerful windstorm in September, high winds sparked fires and turned small manmade fires into a half dozen or so large raging fires. More than one million acres were burned, more than 3,000 homes were destroyed, and 11 people died.
This was the worst natural disaster in Oregon's modern history. Inspired by the work of other state TLAs following natural disasters, the Oregon Trial Lawyers Association set out to help those who lost their homes and were displaced. As trial lawyers, we are uniquely situated to help the citizens of our state pursue their insurance claims. We know the tricks insurance companies pull, and we want better for our citizens when natural disaster hits home.Marc Johnston, AAJ and OTLA member
First, the Oregon Trial Lawyers Association wanted to educate every citizen who was interested about how to pursue their insurance claims. They decided to create enduring tools that would show people what to watch out for; hence, they worked with their best fire insurance attorneys to create a series of 12 videos that could be shared and reshared by anyone dealing with their insurance company.
They then employed a statewide boots-on-the-ground approach—organizing and sending lawyers out into the hardest hit communities to provide pro bono legal services to anyone displaced or affected by the fires. All the volunteer lawyers underwent a training CLE that was put on by OTLA's leading fire insurance attorneys. OTLA also staffed a hotline through the end of November so that anyone could call and talk to a lawyer about their fire claim.
"We headed directly towards the fires so we could help the most people possible. Running towards the fire was a metaphor that guided our pro bono efforts," said Marc Johnston, Johnston Law Firm. Having reached and helped hundreds of people in this crisis, Marc and OTLA truly have made a difference!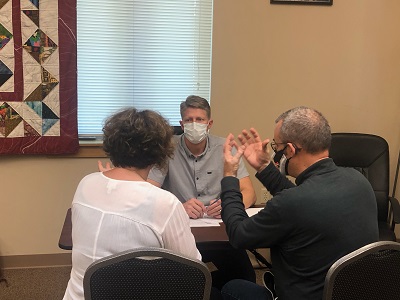 Finding a Family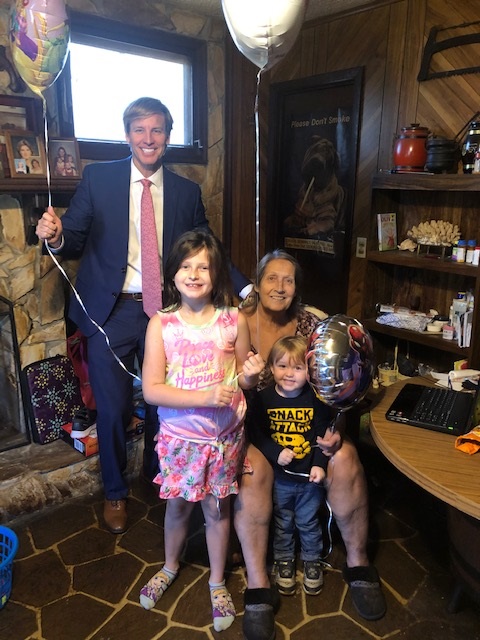 By serving as guardian ad litem to two siblings in foster care, Alan Pickert—a partner at AAJ Leaders Forum firm Terrell • Hogan—was thrilled to play his part in their adoption into a loving family. Nine-year-old Cylie and her two-year-old brother, Cayden, were neglected by their biological parents, placed in foster care, and now have a chance to excel in life with their new family.

Their foster mother has now officially adopted them. "Cylie is a bubbly, happy little girl who has come out of her shell because of the love she's received. And Cayden is the happiest little two-year-old you will ever meet who gives priceless hugs," Alan said.

Alan volunteered as their court-appointed advocate while the children were in foster care. Several times a month, Alan either called or visited Cylie and Cayden at their foster home, met with the people in their lives to check on them, resolved any issues, and reported back to the court.

For Alan, the highlight of being Cylie and Cayden's guardian ad litem was helping facilitate their adoption. "Being involved in their lives is so rewarding. With all the challenges they've experienced at their young ages, and to see them thriving now, it makes you realize how small your problems are and how good you have it," he said.

According to the Florida Department of Children and Families, more than 800 Florida children are waiting to be adopted. When foster children are adopted, the State of Florida provides the children with free health insurance through Medicaid, free college through a public Florida university, a monthly stipend for living expenses, and therapy services.

Despite the state assistance, families who adopt or foster children often need help. If you wish to help a child in need, you may fund things such as dental appointments, music and art lessons, sports, school supplies, and camp.

For Cylie and Cayden, the Terrell • Hogan law firm has made a donation to help them as they begin a new chapter in their lives. After learning about their adoption on social media, one former client offered to buy the kids clothes.

Alan plans on being involved in the children's lives for years to come. "The entire family are rock stars if you ask me. Rhonda, Cylie, Cayden, and the rest of the family are just fantastic, but more importantly, these kids now have a chance to excel in life" Alan said.

The lawyers and staff of Terrell • Hogan plan on supporting foster children, as well as all the firm's other charitable endeavors, for decades to come. "It is important to us as leaders in the community to make sure we assist others in need," said founder Wayne Hogan. "We are here to help as many people as we can."
Lawyers for Learning
As COVID-19 shelter-in-place orders have been lifted and employees have returned to work—but schools remain closed—many parents face hardships in finding the time to watch their children, tend to their virtual learning needs, and also complete their own work duties. San Diego-based law firm Gomez Trial Attorneys has converted its mock courtroom into a conveniently located and socially distanced classroom to eliminate virtual learning responsibilities from parents (GTA employees) and to allow them to maximize their work productivity.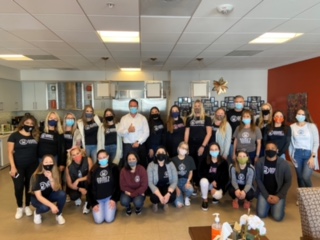 Founder and President John Gomez has hired two professional teachers to help the students with their virtual learning during their parents' work hours. This has created peace of mind so employees can work just a few steps down the hallway. Education has always been a priority at Gomez Trial Attorneys, and they are committed to doing whatever it takes to make sure their employees' children remain educated and healthy during this time, while allowing staff to focus on work and the best results for their clients.
Making the Wait to Vote a Little More Bearable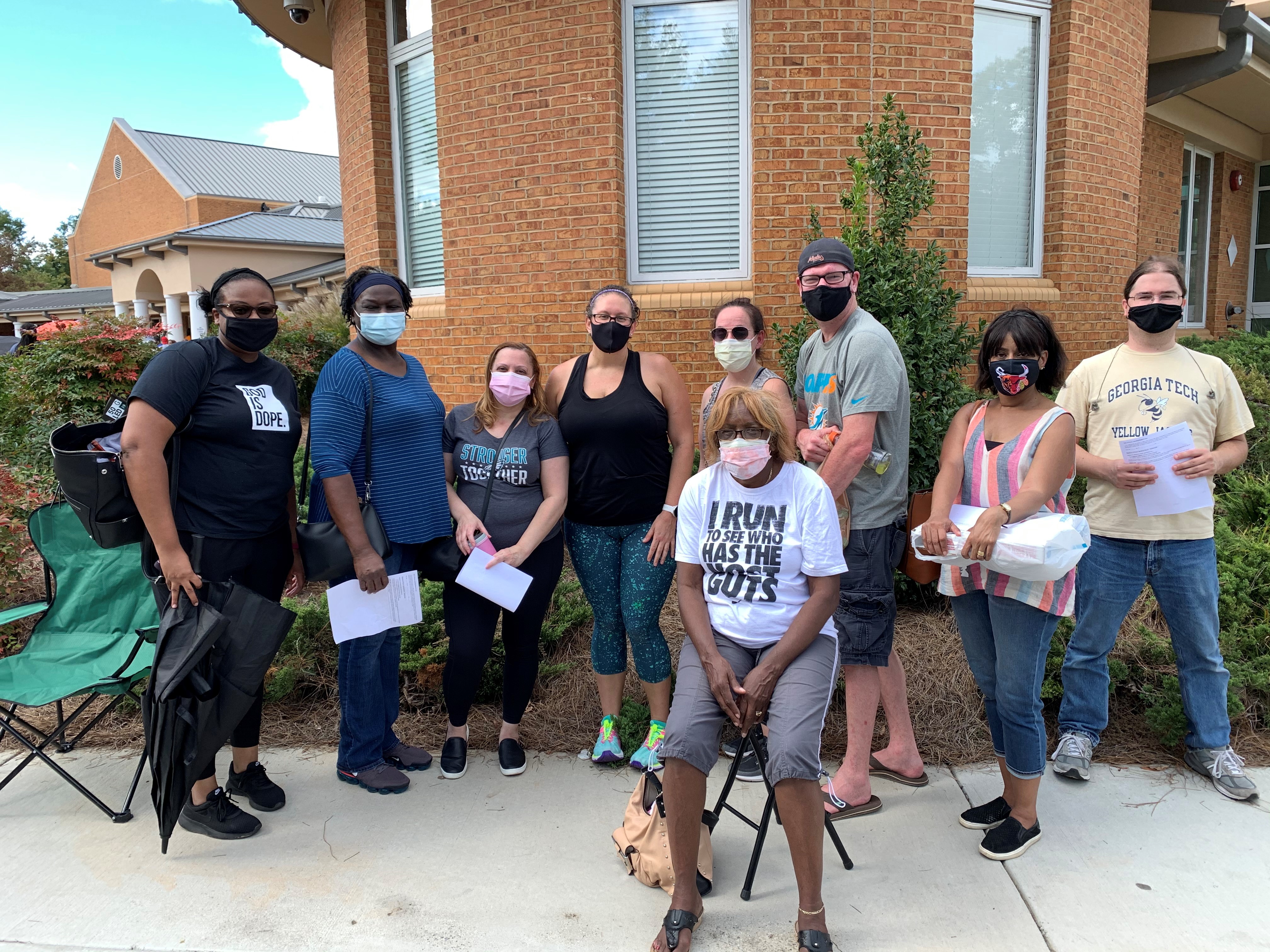 On the first day of early voting in Georgia, AAJ member Sharon Zinns waited for more than 5 hours in line to vote at the Smyrna Community Center. After 2 hours of hearing people talk about missing lunch, Sharon ordered pizza and drinks for the line. Other people pitched in—providing plates, napkins, and waters; and helping her hand out food. They talked, listened to music, and had a good time despite the long wait in the sun. Two days later, she saw online that the wait at the community center was 3 hours again. Before delivering pizza to the line, she asked for donations on her Facebook page to help defray the cost of the second day of food delivery. Sharon received more than a few pizzas in donations; she received over $4,000 from around the country!
"Nobody should be waiting on lines this long to cast their votes. But since I knew this is the reality for my county on Election Day, my goal is to make sure voters can wait comfortably, stay in line, and cast their votes," says Sharon.
In anticipation of long lines on Election Day, thirteen volunteers have offered to work with Sharon to help feed Georgia voters using the money raised so far, including two women she met waiting in line to vote.
Gambling for Good: LATLC Virtual Poker Tournament for College Scholarships
Los Angeles Trial Lawyers' Charities is a "pass-through" charity: what they raise is what they give away. With the loss of their in-person fundraisers, they did not know if they could still support LATLC programs like their 2020 college scholarships—something that was unacceptable to them! High school seniors had already lost their proms, parties, and graduations; they were determined that they NOT lose much-needed funds.
Since they had already scheduled (and had the gaming permit) for a June 20 "Casino Night," they decided to create a "Virtual Poker Tournament" on that same date. The goal was to raise $25,000 for ten scholarships.
They didn't.
The tournament, silent auction, and a drawing actually brought in more than $40,000 and allowed them to present TWELVE (not the usual ten) college scholarships during this difficult year.
As COVID-19 is still preventing in-person events, they are holding another virtual poker tournament on October 24 to replace their annual Holiday Village in South Central Los Angeles. Every year, they hold an incredible party attended by 2,000 people—distributing 1,500 toys plus food and groceries for 550 families. Let's bring some "Comfort and Joy" to families in need! Sign up today.
Pledging to Help Providence
Mark Mandell, a Rhode Island trial lawyer and past President of the American Association for Justice, made an inaugural contribution to the Providence Community Relief Fund to support ongoing COVID-19 efforts to help residents. The fund is held at the United Way of Rhode Island.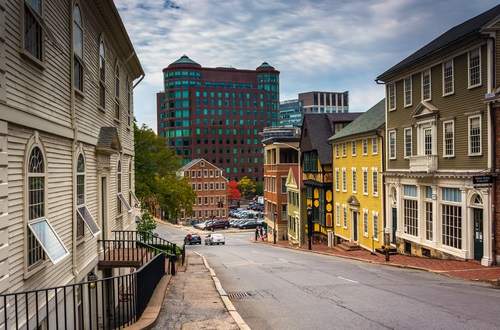 "We all have a shared responsibility to help each other – it is so important that we do that, especially during tough times," said Mandell in a press release from the Providence Mayor's office. "I invite all who are able to join me in helping to provide basic needs to our fellow Rhode Islanders."

Mandell donated $25,000 and is pledging to match another $25,000 when that amount is also raised by the community.

The funds will be distributed to nonprofits to support a variety of initiatives, such as food assistance and direct financial relief.
Law Firm Donates to Local Food Banks
Texas-based Glasheen, Valles & Inderman Injury Lawyers donated $100,000 to food banks this spring in communities where its employees live and work.
"As a personal injury law firm, what we do is help people who are in a crisis," said Kevin Glasheen, senior partner at Glasheen, Valles & Inderman Injury Lawyers. "In this case, that crisis isn't an injury, but instead a need for food."
Local food banks are almost always in need of donations, but now more so than ever during the COVID-19 pandemic.
Glasheen, Valles & Inderman's $100,000 donation is broken down as follows:
$20,000 donated to the South Plains Food Bank in Lubbock, Texas;
$20,000 donated to West Texas Food Bank in Odessa, Texas;
$20,000 donated to El Pasoans Fighting Hunger Food Bank in El Paso, Texas;
$20,000 donated to Roadrunner Food Bank which operates in Albuquerque ($10,000) and Las Cruces, New Mexico ($10,000); and
$20,000 donated to benefit the Jemez Pueblo in New Mexico.
"We have had a lot of success representing families across the region in catastrophic injury and death cases, so we are able to help," said Glasheen.
Glasheen, Valles & Inderman Injury Lawyers is a regional personal injury law firm that focuses on cases involving catastrophic injuries and death, serving clients through West Texas and New Mexico with offices in Lubbock, Odessa, El Paso, Albuquerque, and Austin.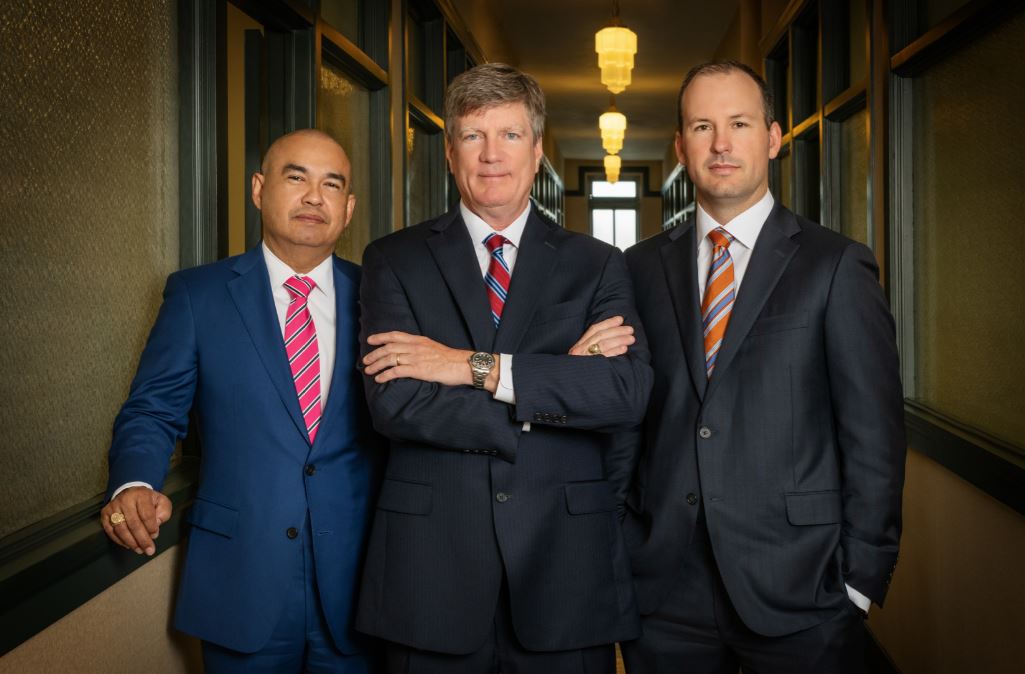 Joel Feldman speaking to students.
Trial Lawyers in Action
End Distracted Driving
After his 21-year-old daughter Casey was killed by a distracted driver in 2009, trial lawyer Joel Feldman created a safety campaign in her memory. Hundreds of trial lawyers have volunteered to give the End Distracted Driving (EndDD) presentation across North America.
Join the Fight
Making our communities safer one student at a time
A History of Service
Action After Tragedy
Trial Lawyers Care launched 13 days after the 9/11 attacks in 2001. More than 1,100 TLC attorneys volunteered, providing free legal help to more than 1,700 families who applied for federal financial assistance.
Learn More
Volunteer
Share Your Good News
Let us know what you and/or your firm are doing to help the community.
Let Us Know
Volunteer
Trial Lawyers Care Award
Each summer AAJ recognizes a member with an exemplary community service project. If you know of a individual who has gone above and beyond, nominate him or her today.
Nominate a Trial Lawyer
Join Today!
AAJ delivers exceptional education, unparalleled advocacy, and a dedicated community of trial lawyers fighting for justice. Join Today!