Vol. 58 No. 5
Trial Magazine
Feature
None of Us is an Island
Trial spoke with Minority Caucus Chair Amber Pang Parra about how Caucus members work together and support each other.
May 2022
Established in 1992 to increase diversity within the association, the Minority Caucus focuses on membership, fundraising, education, and public service. It hosts virtual and in-person events throughout the year, including community service projects and social events at conventions, CLE programs, and membership and fundraising drives.
---
What is special about the Minority Caucus, and how does it support or uplift minority attorneys?
The Minority Caucus has a beautiful environment, where people are friendly and eager to help one another. You can always find someone in the group who is willing to spend time with you and answer any questions you have about a case, brainstorm ways to strengthen your representation, or provide guidance. So many people in the Caucus do extraordinary things, display uncommon commitment to their profession and clients, and lead by example. I am grateful to be a part of this amazing group! It has helped me build my network by growing my circle of colleagues and friends. Most important, it has allowed me to help my clients.
Tell me how you became involved with the Caucus.
I got involved in the Minority Caucus when I attended my second convention. I volunteered for the service project and, after that, at a couple of phone drives. Through those interactions, I met other active members and learned more about the Caucus's activities and purpose. I was excited to increase my involvement by participating in Lobby Days and volunteering for committees. Each of these activities was exciting, fun, and meaningful, and they really solidified my involvement with the Caucus.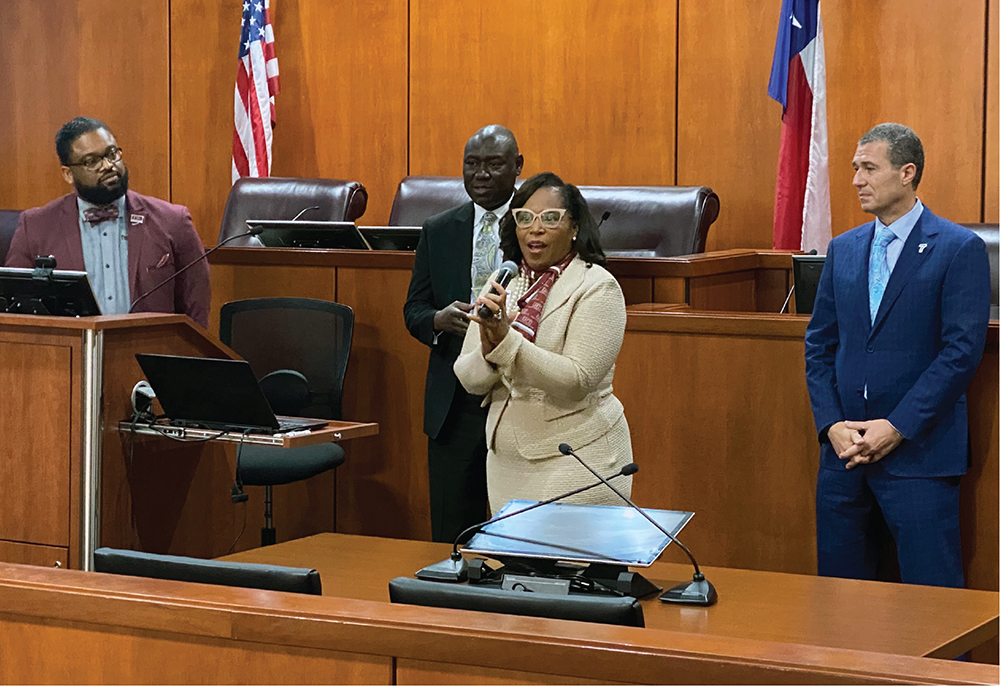 Several speakers at AAJ Education's 2021 Civil Rights Litigation program held at Thurgood Marshall School of Law in Houston. Pictured (L-R): Larry Taylor, Benjamin Crump, Texas Southern University President Dr. Lesia L. Crumpton-Young, & Tony Romanucci.
What is one of your favorite Caucus memories?
Lobby Days—especially the first one I participated in with the Minority Caucus. The event was such a powerful experience, and I felt deeply enriched by it. You're with the best of the best, learning together and sharing experiences. You're meeting with representatives and senators and their staffers, and you're expressing powerfully to our legislators how the issues we work on are affecting our clients' lives. You're seeing the process of change manifest. It's transformative.
I've gotten to know so many people through Lobby Days, and I've cherished the relationships I've built. And it's very exciting seeing these changes accumulate over time, helping more people.
What would you like to see the Caucus achieve this year?
I want the Minority Caucus to continue to grow its membership. There are now more minority members of AAJ than ever before—but we can continue to increase those numbers. I also want to increase engagement. It's important that every member of the Caucus feels called to be active and bring more people into the fold.
The AAJ Member Firm Pledge to Act encourages law firms to implement diversity initiatives. What does diversity and inclusion in the legal profession mean to you?
Diversity and inclusion in the legal profession means that we're better able to serve our clients and make them feel seen and heard. It means we're adding to the rich cultural heritage of the legal profession and continually adding to the variety of voices and viewpoints. Our differences make us stronger. When all of our unique voices and backgrounds are accorded value, it helps more people feel that the legal world relates to them, protects them, and is there to help them.
All of this year's Caucus chairs are AAJ Leadership Academy graduates. What did you learn from this experience that helped prepare you to lead the Caucus?
The AAJ Leadership Academy taught me how to better identify, understand, and use the bonds that exist among all plaintiff attorneys. We're all part of a community, and we've all been called to use our abilities to help those who've been hurt. Recognizing that we share this calling is crucial. None of us is an island. By working together and supporting each other, we can gain strength from each other. And we can bring about changes that have a positive impact on everyone.
What's the best piece of advice you've received during your time with the Caucus?
Find your home, find your place, and share it with others.
---
Amber Pang Parra is an attorney with Justinian & Associates in San Antonio and is the 2021–2022 chair of the Minority Caucus. She can be reached at ampp@justinian.com.
---
Educating Members
For the last few years, the Minority Caucus has co-presented an AAJ Education program focused on civil rights with AAJ's Civil Rights Section, AAJ's Police Misconduct Litigation Group, and the National Police Accountability Project. In 2021, the program was held at the Thurgood Marshall School of Law in Houston. Highlights included AAJ members discussing how to handle high profile civil rights cases; U.S. Rep. Sheila Jackson Lee (D-Texas) talking about the state of qualified immunity legislation; and two state court judges speaking on how these cases play out in the civil justice system. This program is planned for fall 2022 and is complimentary to AAJ members, as well as members of the local, state, and minority bar associations.
---
AAJ's Member Firm Pledge to Act
In 2021, AAJ President Navan Ward Jr. and the Diversity and Inclusion Committee launched this initiative to promote the role of minority attorneys in the trial lawyer community. Participant firms are encouraged to foster diverse and inclusive environments within their own law firms and are provided with resources to assist them in the recruitment, retention, and promotion of minorities. As of March 2022, 180 firms have signed the pledge. For more information, visit justice.org/community/pledge-to-act.
---
Leadership Academy
Established in 2012, AAJ's Diversity and Inclusion Committee created the Leadership Academy to improve, develop, and ensure diversity in AAJ's membership and its leadership, particularly among those who are underrepresented within the association based on ethnicity, race, gender, sexual orientation, religion, age, and disability.
Of the 128 graduates to date, 77 are women and 67 are people of color. In 2021–2022, each chair of the Minority Caucus, New Lawyers Division, Women Trial Lawyers Caucus, and LGBT Caucus is a Leadership Academy graduate. For more information, visit justice.org/education/leadership-academy.
---
Minority Caucus Executive Committee
2021–2022
Chair:
Amber Pang Parra
San Antonio, TX
Chair-elect:
Ervin Nevitt
Oak Park, IL
Treasurer:
Javier Herrera
San Antonio, TX
Secretary:
Christopher Fitzgerald
New York, NY
Representatives to the AAJ Board of Governors
Raymond Jones | Washington, DC
Christopher Johnson | Dallas, TX
Bhavani Raveendran | Chicago, IL
Jason Penn | Baltimore, MD
Immediate Past Chair & Representative to the AAJ Executive Committee:
Rick Barrera
Albuquerque, NM