Events
Student Trial Advocacy Competition (STAC)
AAJ's Student Trial Advocacy Competition is an annual nationwide law student mock trial competition.
2023 Competition Update
The 2023 Competition has concluded.
The 2023 competition was a hybrid model.
The Regional Tournaments were held virtually March 2-5, 2023.
The National Finals were held in person March 30-April 2, 2023, in New Orleans, LA.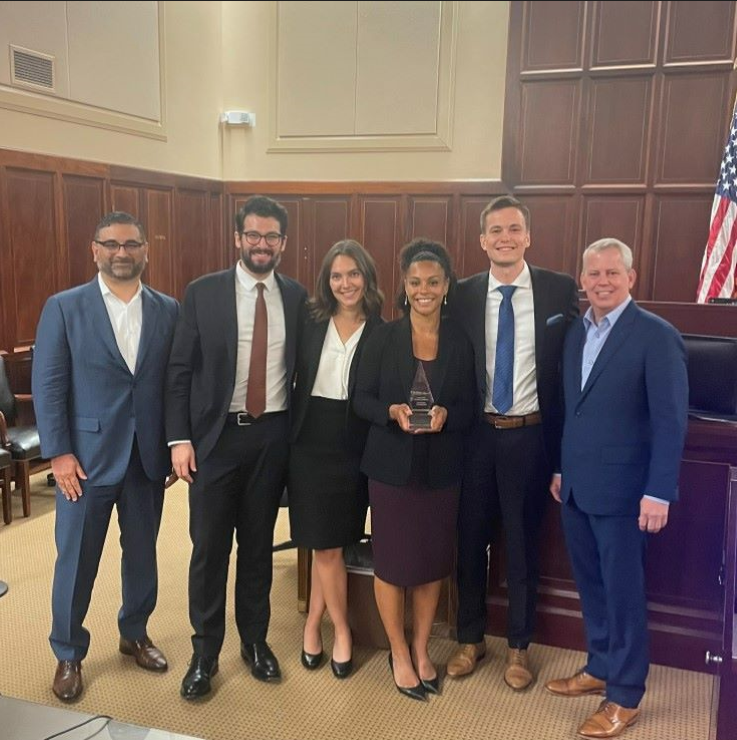 2023 STAC Champions
University of California, Los Angeles
Los Angeles, CA
Congratulations to the 2023 STAC Champions, Sydney Gaskins, Edouard Goguillon, Sophia Cherif, and Alex Greer. UCLA Law won the Southwest Regional and went on to defeat Cumberland School of Law Samford University in the National Finals, held in New Orleans March 30-April 2. Sydney Gaskins was awarded "Best Advocate" in the National Finals. Thank you to all the students, coaches, judges, and volunteers who made 2023 STAC a success.
Review the 2023 Competition Details
committed volunteers and LAW STUDENT COMPETITORS make STAC a success year after year
Past Winners
2023 - University of California, Los Angeles
2022 - University of California, Los Angeles
2021 - University of California, Los Angeles
2020 - cancelled due to the COVID-19 pandemic
2019 - Campbell University School of Law
2018 - UC Hastings
2017 - Wake Forest
2016 - Drexel
2015 - Stetson
2014 – University of Akron
2013 – University of Notre Dame
2012 – Cumberland School of Law, Samford University
2011 – Duquesne University
2010 – University of Wisconsin
2009 – Stetson University
attention future Trial Lawyers
Law Student Scholarships
AAJ has four scholarships available for qualified law students: Richard D. Hailey Scholarship ($5,000), Trial Advocacy Scholarship ($3,000), Leesfield/AAJ Scholarship ($2,500), and Mike Eidson Scholarship ($5,000). Scholarship applications are now open.
EXPLORE SCHOLARSHIPS HERE
Expand Your Network
Law School Chapters
AAJ Law School Chapters provide students with resources and opportunities to network and engage with AAJ members. Chapters invite local trial lawyers to speak about their practice areas, practical skills, and cases they have litigated. Students can network with member firms and participate in mentoring programs.
Contact Us