Events
Student Trial Advocacy Competition (STAC)
AAJ's Student Trial Advocacy Competition is an annual nationwide mock trial competition.
2021 Competition Details
2021 Competition Update
As the health and safety of students, volunteers, and judges is our top priority, the 2021 competition will be virtual
Regional Competitions will take place March 4-7, 2021
National Finals will be held April 15-18, 2021
committed volunteers and LAW STUDENT COMPETITORS make STAC a success year after year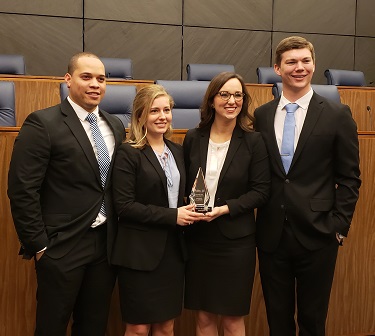 2019 STAC Champions
Campbell University School of Law
Raleigh, NC
Congratulations to the 2019 STAC Champions, Lydia C. Stoney, Ethan W. Carpenter, Kevin L. Littlejohn, and Anna Claire Turpin. Campbell University School of Law won the Raleigh Regional and went on to defeat University of Akron in the National Finals, held in Philadelphia, Pennsylvania. Thank you to all the students, judges, and volunteers who made the 2019 STAC a success.
Past Winners
2018 - UC Hastings
2017 - Wake Forest
2016 - Drexel
2015 - Stetson
2014 – University of Akron
2013 – University of Notre Dame
2012 – Cumberland School of Law, Samford University
2011 – Duquesne University
2010 – University of Wisconsin
2009 – Stetson University
Previous Year's Fact Patterns
Membership
Law Student Membership
Law student are invited to join AAJ. In addition to being eligible to compete in STAC, law students receive online access to Trial Magazine and AAJ News Brief, are listed in AAJ member directory, and can apply for writing, speaking, and leadership opportunities.
Join Today
Volunteer
Judges Needed!
Support the Student Trial Advocacy Competition and volunteer to serve as a judge or juror. More than a thousand AAJ members and other lawyers volunteer each year. It is a fun and easy way to support future trial lawyers. Sign-up and be alerted with judge recruitment begins.
Volunteer Today