STAC Team Registration Instructions & FAQs
STAC School Registration Policies
Each school can register for one or two teams to participate in the STAC tournament. A team consists of four law students.
All schools which register by November 30, 2021 are guaranteed at least one team in the tournament. After each school has been awarded one team slot, schools which requested a second team are awarded a slot on a first-come, first-served basis until all the team slots are filled. Remaining second teams are placed on a waitlist. As spots open due to teams withdrawing from the competition, the waitlist teams will be offered a slot. A team's position on the waitlist is determined by a timestamp issued when the team registers for the competition.
In the event a team is not able to be moved off the waitlist, the school will receive a refund for the second team's registration fee. If a waitlisted team is offered a spot in the competition but declines, no refund will be issued. Refunds will be issued at the conclusion of the national competition.
How to Register
Click the yellow button below and enter a valid user name and password to register one or two teams for STAC. The button will only be visible while registration is open. Detailed instructions are below.
All schools must register and pay for their team(s) by Friday, November 30, 2021. If you will be paying by credit card, please have payment information prepared before beginning this process. Do not start the registration process if you cannot provide payment information at this time.
Detailed Instructions
1. Click here and log in with your AAJ username and password.
If you previously registered a team for STAC or are an AAJ member, you have an AAJ account. If you do not recall your password, click here to reset your password.
If you are not an AAJ member and have never previously registered for STAC, you will need to create a guest account. You can create a guest account here. Please register with the email address and phone number that should be used for competition updates, registration issues, and other STAC-related communication.
If you need additional assistance, please call AAJ Membership at (800) 424-2725, extension 8611 or email membership@justice.org.
2. Select the school you are registering from the drop down menu and click Next.
Begin typing your school name SLOWLY. The system will locate your school and you can select it from the dropdown that appears. Disregard the number that appears next to the school name—this is a number assigned by our database and does not mean anything about your school's participation in the competition.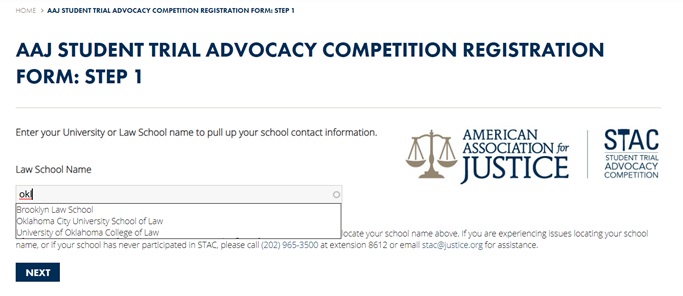 3. Confirm your email address and the school address and click Next.
If this information need to be updated, please contact AAJ's Membership Department at (202) 965-3500, ext. 8611 or email membership@justice.org to update your record.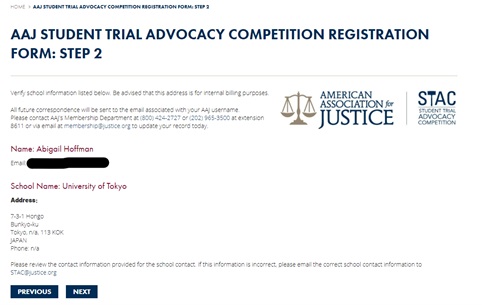 4. Select the number of teams you are registering (one team or two teams). Click Next.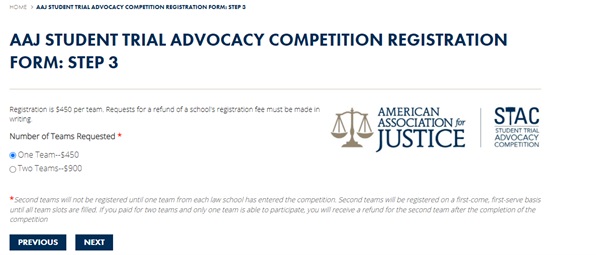 5. Select your form of payment and click Next.
6. Complete Payment Process
Credit Card: Click Checkout.
Do NOT go back once you have entered the Checkout page. It may take a moment for the Checkout page to load, please be patient.

Confirm your customer and billing information, select a payment method, and enter your credit card details.

Press Continue, review your order, and press "Submit Order."


Check Payments: Select Check to generate an invoice.
Click Print Invoice to generate a PDF of the invoice. Print the PDF and return the invoice and the payment within 30 days. The materials should be mailed to: American Association for Justice, Department 0747, Washington, DC 20073-0747
Schools paying by check will receive a confirmation email and receipt one the payment has been processed.

Congratulations, your school is registered for AAJ's 2022 Student Trial Advocacy Competition!
When your registration is complete, you will be redirected to the STAC homepage. You should receive a confirmation email within 24 hours. Please print or save this email for your records.
If you have any problems, please email STAC@justice.org.
Membership
Law Student Membership
Law student are invited to join AAJ. In addition to being eligible to compete in STAC, law students receive online access to Trial Magazine and AAJ News Brief, are listed in AAJ member directory, and can apply for writing, speaking, and leadership opportunities.
Join Today
Volunteer
Judges Needed!
Support the Student Trial Advocacy Competition and volunteer to serve as a judge or juror. More than a thousand AAJ members and other lawyers volunteer each year. It is a fun and easy way to support future trial lawyers. Sign-up and be alerted with judge recruitment begins.
Volunteer Today