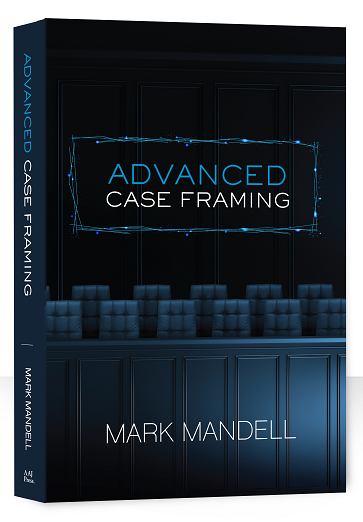 AAJ Press
Advanced Case Framing
Delivery method: Shipped
Mark Mandell's Case Framing®, released in 2015, quickly earned widespread acclaim as a classic and essential book for trial attorneys. Now, in Advanced Case Framing®, Mark refines his Case Framing® model and offers new ideas on Case Frames, I-Just-Can't-Get-Over Issues, and Echoes. Providing real examples and a case study to reinforce the principles of the model, Mark shows readers in a step-by-step format how to focus jurors' attention on the true issues. Advanced Case Framing® is a tool that all plaintiff lawyers should use to prepare and try a case from beginning to end so they can achieve better results for their clients.
This book is only available for purchase by plaintiff attorneys or their staff. You do not need to be an AAJ member to purchase this book. Nonmembers will need to create an account with shipping and contact information to purchase.
Related Resource
Learn more from Mark Mandell in his Case Framing book, available exclusively through AAJ Press! Order Case Framing
This book is not just a sequel to Mark's innovative and brilliant first book, Case Framing. It's a lot more than that. Mark takes his Case Framing concept to a whole new level of persuasion with careful explanations and copious examples, including a case study of what has to be one of the most difficult personal injury trials ever won by anyone, anywhere.
Patrick Malone
Author of The Fearless Cross-Examiner and coauthor of Rules of the Road™
Washington, DC
Table of Contents
Part I: The Case Framing Model
Chapter 1—About Case Framing

Chapter 2—Case Framing—An Integrated Approach

Chapter 3—Case Frames

Chapter 4—I-Just-Can't-Get-Over Issues

Chapter 5—Echoes

Chapter 6—Echoes II

Chapter 7—How to Reframe and Overcome the Defense Proof

Chapter 8—Case Framing and Voir Dire
Part II: Brown v. Ocean State Casino
Chapter 9—The Facts of the Case
Part III: Brown v. Ocean State Casino—Obstacles to Overcome
Chapter 10—Bad I-Just-Can't-Get-Over Issues and the Defense Narrative
Part IV: Brown v. Ocean State Casino—Presenting Our Case Proof
Chapter 11—Good I-Just-Can't-Get-Over Issues

Chapter 12—Case Frames

Chapter 13—The Plaintiffs' Case Narrative

Chapter 14— Creating Echoes
Part V: Brown v. Ocean State Casino—Overcoming and Reframing the Defense Proof
Chapter 15—Focus Groups

Chapter 16—Motions in Limine

Chapter 17—Other Pretrial Motions

Chapter 18—Waiving Claims

Chapter 19—Voir Dire

Chapter 20—Motions During Trial

Chapter 21—Objections During Trial

Chapter 22—Inoculations

Chapter 23—Cross-Examination

Chapter 24—Judicial Notice and Jury Instructions

Chapter 25—Jury Empowerment and Education

Chapter 26—What Was Left of the Defense at the End of Closing

Arguments?
Part VI: Brown v. Ocean State Casino—The Result
Chapter 27—Settlement Negotiations During Trial

Chapter 28—The Verdict
Part VII: On Being a Trial Lawyer
Chapter 29—On Being a Trial Lawyer
Advanced Case Framing is the culmination of a lifetime of brilliant work in the courtroom by master trial lawyer, Mark Mandell. He has honed the art of the trial and provided a wonderful guide to be used over and over by lawyers at every stage of the case. Trial lawyers will be well-served to adapt anew Mark's Case Framing principles provided in this book as they approach every case.
Judith A. Livingston
Member of the Inner Circle of Advocates and Fellow of the International Academy of Trial Lawyers
New York, NY
Join Today!
AAJ delivers exceptional education, unparalleled advocacy, and a dedicated community of trial lawyers fighting for justice. Join Today!