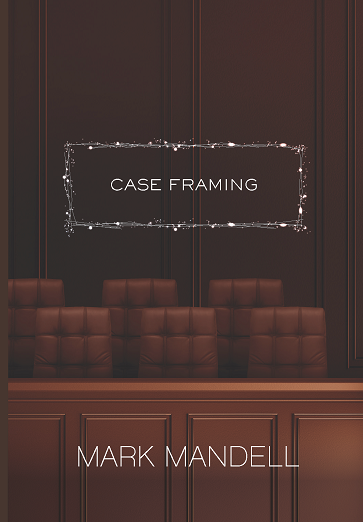 AAJ Press
Case Framing
Delivery method: Shipped
Whether you are negotiating, arbitrating, or in trial, how you frame your case's issues will determine its outcome. In Case Framing® Mark Mandell demonstrates how to use his three-part method to frame a case and obtain just outcomes for clients. He teaches plaintiff attorneys how to find the fundamental truth that defines the case, the vital issues the jury "just can't get over," and how to echo those issues throughout trial. He demonstrates how to apply his universal techniques to any case, across numerous situations. He also walks the reader through a detailed case study, illustrating how each element of the Case Framing® method applies to each part of a case.
This book is only available for purchase by plaintiff attorneys or their staff. You do not need to be an AAJ member to purchase this book. Nonmembers will need to create an account with shipping and contact information to purchase.
Legendary trial lawyers know how to pull a case's beating heart out of a jumbled tangle of facts. Mark Mandell's innovative new book teaches you how to identify the best and worst elements of your client's story, and then, to dig down to the very soul of the case. Case Framing will help you become a master storyteller who can move a jury to justice.
Randi McGinn
Former president of the Inner Circle of Advocates and author of Changing Laws, Saving Lives
Albuquerque, NM
Table of Contents
Introduction
Part I: The Case Framing Method
Chapter 1: Case Frames
Chapter 2: I-Just-Can't-Get-Over Issues
Chapter 3: Presenting Your I-Just-Can't-Get-Over Issues to the Jury
Chapter 4: Case Frame Logistics
Chapter 5: Presenting Your Case Frame to the Jury
Chapter 6: How to Deal with Bad I-Just-Can't-Get-Over Issues
Chapter 7: Echoing Your I-Just-Can't-Get-Over Issues Throughout Trial
Chapter 8: Case Framing and Depositions
Chapter 9: Case Framing in Mediation and Settlement Negotiations
Chapter 10: Case Framing and the Admitted Liability Case
Part II: A Case Study: Jones v. Smith
Chapter 11: Background
Chapter 12: How We Identified the Good Issues Relevant to Liability
Chapter 13: Motions in Limine
Chapter 14: Voir Dire
Chapter 15: Opening Statement
Chapter 16: How We Used Echoes Throughout the Trial
Chapter 17: Identifying Our Overall Case Frame
Chapter 18: Closing Argument
Chapter 19: On Being a Trial Lawyer
The evolution of trial advocacy has reached a new level with Mark Mandell's book, Case Framing. It stands alongside the other legendary works of wisdom for trial lawyers such as Rick Friedman and Pat Malone's Rules of the Road and Don Keenan and David Ball's Reptile.
Jim Perdue
Member of the Inner Circle of Advocates and author of Winning with Stories
Houston, TX
Join Today!
AAJ delivers exceptional education, unparalleled advocacy, and a dedicated community of trial lawyers fighting for justice. Join Today!