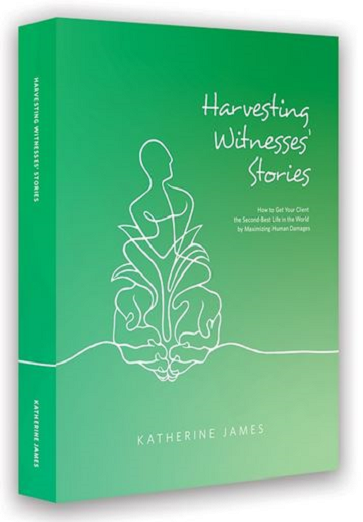 AAJ Press
E-Book: Harvesting Witnesses' Stories
Delivery method: Shipped
With insight gained from a background in theatre and from working closely with lawyers and witnesses, James has developed a method of finding and communicating the stories that convey what she calls human damages. Injured clients may never be able to regain the life they once had—the first-best life in the world, as one client put it—but maximizing these noneconomic damages is the only way to get them the second-best life in the world. In this book, James shows how to get even the most difficult witness to share the stories that matter and that convey the human damages at the heart of the case.
You do not need to be an AAJ member to purchase this e-book. Nonmembers will need to create an account with shipping and contact information to purchase.
To access your download after purchase, click here
Related Resource
Katherine's insights on advanced witness preparation are also available as an audio book! Choose your format to learn from the master of client storytelling. Order as Audio Book
Katherine's tools and techniques for how to find the true stories of each person in each case are incredibly helpful. Her lessons, such as the differences between visual, auditory, and kinesthetic learners are invaluable. Harvesting Witnesses' Stories is as insightful as any book on witness preparation I have ever read.
Mark Mandell
Author of Case Framing and Advanced Case Framing
Providence, RI
This book is so true, so honest, so real, and so helpful. I can't decide which is better—the Tales or the Tools and Techniques. I truly recommend this must-read reference book for trial lawyers!
Gregory Cusimano
Coauthor of Winning Case Preparation: Understanding Jury Bias
Gadsen, AL
In a book that should earn a spot in every trial lawyer's office, Katherine James delivers a comprehensive, how-to tutorial to getting the best out of your witnesses. It's a guilty pleasure and an emergency manual whose tight chapters permit you to leap to the guidance you need in a specific situation. Keep it within arm's reach as you prepare your next case. Your client will thank you.
David S. Casey, Jr.
Past President of the American Association for Justice
San Diego, CA