Masterworks (DVD)
By Koskoff, Lambert, Lewis, Levine, Preiser, Barton Conlin
AAJ Press/Trial Guides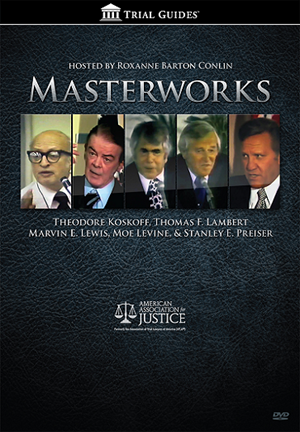 For the first time on DVD, Trial Guides brings you Masterworks, a collection of five of the finest trial lawyers of the twentieth century. Hosted by Roxanne Barton Conlin, the first female president of AAJ.
DVD Set: $175.00/Member Price: $157.50*
AAJ Member Discount
Special pricing is available on AAJ Press/Thomson Reuters and AAJ Press/Trial Guides products. AAJ members can login and visit the Legal Research section of your dashboard or call (202)965-3500 ext. 8612 for help. Not yet a member?
Join Today!