Vol. 57 No. 9
Trial Magazine
Trial Lawyers Care
A Piece of the Pie
September 2021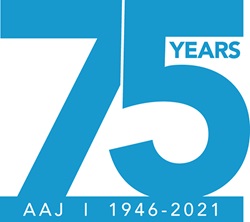 When attorney and AAJ member Sharon Zinns moved to Cobb County, Ga., from Intown Atlanta three years ago, she noticed she wasn't the only newcomer. An influx of new and diverse residents meant that the historically conservative county's demographics were changing rapidly. When the 2020 presidential election came along, Zinns noticed something else—extremely long voting lines and disparity in voter access to the polls. Zinns queued up to vote on the morning of the first day of early voting, fresh from the gym and on her way to work. To her shock, she waited in that line for eight hours before casting her vote.
While in line, Zinns chatted and commiserated with fellow voters over the long wait. Three hours in, an elderly woman near Zinns collapsed in line, and an ambulance was called. Zinns then jumped into action, ordering lunch—20 pizzas—for fellow voters. She wanted to provide comfort to all voters as they waited for their turn at the polls. After having started her own firm a year earlier, Zinns was grateful to be able to set her own schedule and afford the pizza order.
Realizing that had just been day one of early voting and anticipating long lines throughout the election, Zinns reached out to her Facebook network to raise approximately $5,000 for more pizza orders for voters and had them delivered twice more during early voting and on Election Day.
She collaborated with others to distribute the food, including with several people she met in that initial line. "Keeping just one more person in line could make a difference," Zinns said. She views herself as "a tiny piece of a large puzzle" that includes others who, like her, supported voters at the polls with food and those who engaged in broader efforts to make voting more equitable.
At AAJ's Annual Convention in July, Zinns was presented with the 2021 Trial Lawyers Care Award for her efforts. "Nobody should be waiting on long lines to cast their votes," Zinns said. "But since I knew this was the reality for my county, my goal was to make sure voters could wait comfortably and cast their votes."
---
Sharon Zinns is the owner of Zinns Law in Atlanta and can be reached at sharon@zinnslaw.com. Maureen Leddy is an associate editor for Trial.
In Service of Others
Since 2013, AAJ has given the Trial Lawyers Care Award to an AAJ member or firm for outstanding community service or outreach projects. The award is intended to encourage, recognize, and organize trial lawyers' efforts to contribute to their communities.
Award recipients are nominated by members of the trial lawyer community, and winners are announced at AAJ's annual convention. Some past recipients have been recognized for
providing food and other necessities to those experiencing homelessness (Kimberly Valentine, Valentine Law Group, Mission Viejo, Calif.; Bartimus, Frickleton, Robertson Rader, Leawood, Kan.)
caring for COVID-19 patients (Colleen Carboy, Carboy Law Firm, Lewisville, Texas)
providing support and services to natural disaster victims (Karen
Beyea-Schroeder, Schroeder Law Office, The Woodlands, Texas; Ira H. Leesfield, Leesfield Scolaro, Miami)
raising funds for organizations including the Susan G. Komen Foundation (Jennifer Greene, Scott Vicknair, New Orleans) and the American Cancer Society (David W. Singer, David W. Singer & Associates, Hollywood, Fla.).